IURO
Interactive Urban Robot
The goal of IURO project is to develop a robot that can engage in information-gathering face-to-face interactions in multi-user settings.
The purpose of the IURO project is to explore how robots can be endowed with capabilities for extracting missing information from humans through spoken interaction. The test scenario for the project is to build a robot that can autonomously navigate in a real urban environment and enquire human passers-by for route directions One of the central challenges in this project is that of interpreting the spoken route directions into a semantic formalism that is useful for the robot.
An important challenge that is addressed in the projects is using a robot head for turn-taking and attention signalling in multi-party dialogue. For this purpose the KTH group have developed the optical robotic head Furhat. For more information, visit the FurHat page.
The IURO project explores the integration of information retrieval from humans into robot control architectures to complement their perception and aIURO follows a multi-disciplinary approach combining environment perception, communication, navigation, knowledge representation and assessment, and human factors studies as well as a novel robot platform for human-centred urban environments as a pre-industrial development. IURO focuses on several main aspects, which address core objectives of the call: perception and appropriate representation of dynamic urban environments, identification of knowledge gaps arising from dynamically changing situations and contexts not specified a priori, and retrieval of missing information from humans in a natural way by pro-actively approaching them and initiating communication situations.
Participants:
TUM (Technische Universitaet Munchen, coord),Gemany
ETHZ (Eidgenössische Technische Hochschule Zürich), Switzerland
PLUS (Universitaet Slazburg), Austria
KTH, Sweden
ACCREA, Poland
News:
The Speech group showcase their robot head FurHat at RobotVille Festival at the Science Museum in London. RobotVille is part of a pan-European Robot week. Between the 29th of November and the 4th of December 2011, Furhat will be on show at the robot festival, where 10,000 visitors are expected. The visitors will be able to talk with Furhat in a three-part dialogue setting. Here is a picture of FurHat's first TV interview in London: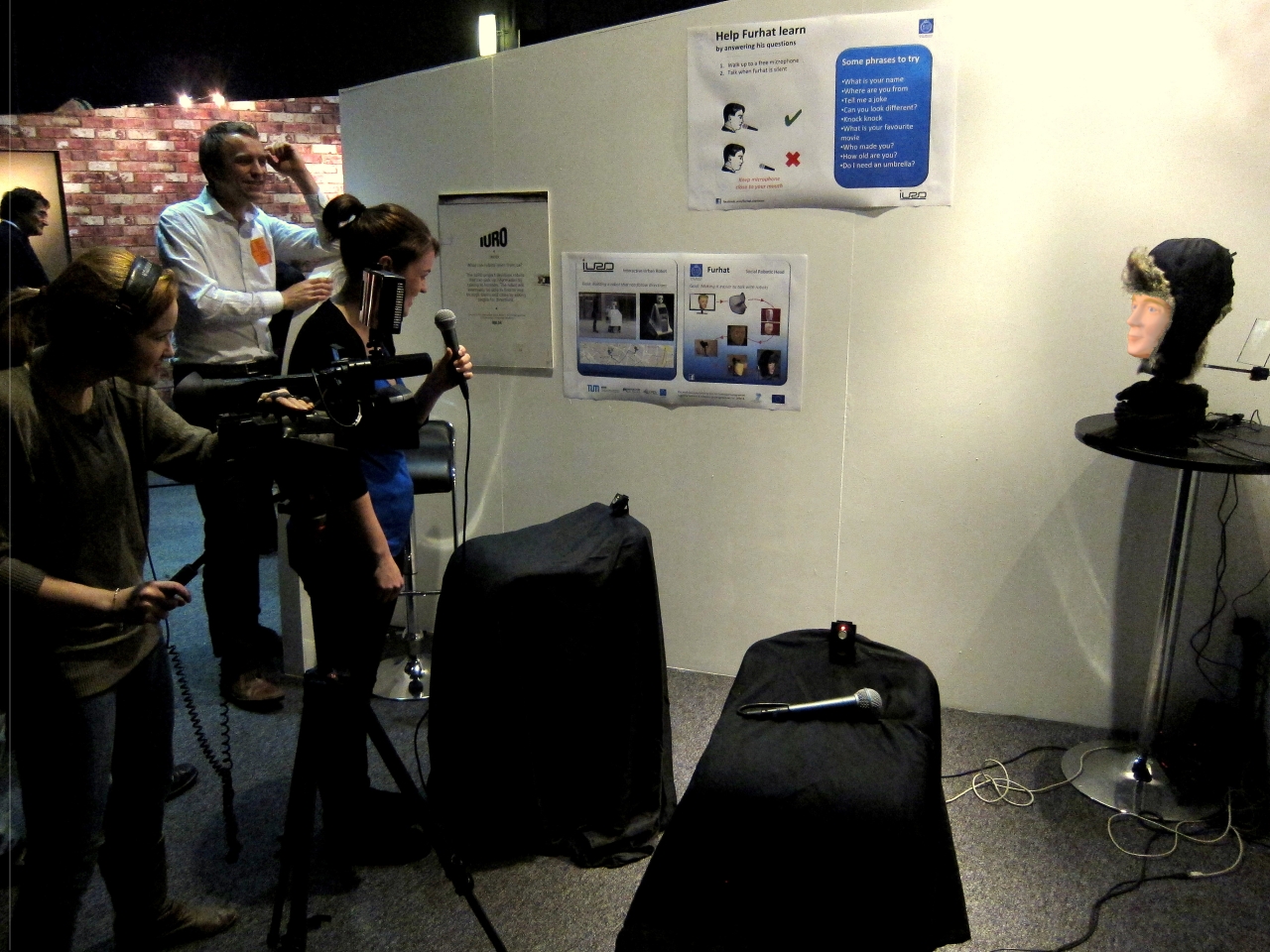 ---
Videos:
Group: Speech Communication and Technology
Staff:
Björn Granström (Project leader)
Jonas Beskow
Joakim Gustafson
Gabriel Skantze
Samer Al Moubayed
Raveesh Meena

Funding: EU (FP7 – 248314 )
Duration: 2010-02-01 - 2013-01-31
Website: http://www.iuro-project.eu/
Related publications:
2013
Al Moubayed, S., Skantze, G., & Beskow, J. (2013). The Furhat Back-Projected Humanoid Head - Lip reading, Gaze and Multiparty Interaction. International Journal of Humanoid Robotics, 10(1). [abstract] [pdf]
Edlund, J., Al Moubayed, S., & Beskow, J. (2013). Co-present or not? Embodiement, situatedness and the Mona Lisa gaze effect. In Nakano, Y., Conati, C., & Bader, T. (Eds.), Eye Gaze in Intelligent User Interfaces - Gaze-based Analyses, Models, and Applications. Springer. [abstract]
Meena, R., Skantze, G., & Gustafson, J. (2013). Human Evaluation of Conceptual Route Graphs for Interpreting Spoken Route Descriptions. In Proceedings of IWCS 2013 Workshop on Computational Models of Spatial Language Interpretation and Generation (CoSLI-3) (pp. 13-18). Potsdam, Germany: Association for Computational Linguistics. [abstract] [pdf]
2012
Al Moubayed, S., Beskow, J., Blomberg, M., Granström, B., Gustafson, J., Mirnig, N., & Skantze, G. (2012). Talking with Furhat - multi-party interaction with a back-projected robot head. In Proceedings of Fonetik'12. Gothenberg, Sweden. [abstract] [pdf]
Al Moubayed, S., Beskow, J., Skantze, G., & Granström, B. (2012). Furhat: A Back-projected Human-like Robot Head for Multiparty Human-Machine Interaction. In Esposito, A., Esposito, A., Vinciarelli, A., Hoffmann, R., & C. Müller, V. (Eds.), Cognitive Behavioural Systems. Lecture Notes in Computer Science (pp. 114-130). Springer.
Al Moubayed, S., Edlund, J., & Beskow, J. (2012). Taming Mona Lisa: communicating gaze faithfully in 2D and 3D facial projections. ACM Transactions on Interactive Intelligent Systems, 1(2), 25. [abstract] [pdf]
Al Moubayed, S., & Skantze, G. (2012). Perception of Gaze Direction for Situated Interaction. In Proc. of the 4th Workshop on Eye Gaze in Intelligent Human Machine Interaction. The 14th ACM International Conference on Multimodal Interaction ICMI. Santa Monica, CA, USA. [abstract] [pdf]
Al Moubayed, S., Skantze, G., & Beskow, J. (2012). Lip-reading Furhat: Audio Visual Intelligibility of a Back Projected Animated Face. In Proc. of the Intelligent Virtual Agents 10th International Conference (IVA 2012). Santa Cruz, CA, USA: Springer. [abstract] [pdf]
Al Moubayed, S., Skantze, G., Beskow, J., Stefanov, K., & Gustafson, J. (2012). Multimodal Multiparty Social Interaction with the Furhat Head. In Proc. of the 14th ACM International Conference on Multimodal Interaction ICMI. Santa Monica, CA, USA. (*) [abstract] [pdf]
(*) Outstanding Demo Award at ICMI 2012
Al Moubayed, S. (2012). Bringing the avatar to life. Doctoral dissertation, School of Computer Science, KTH Royal Institute of Technology.. [abstract] [pdf]
Al Moubayed, S., Beskow, J., Granström, B., Gustafson, J., Mirning, N., Skantze, G., & Tscheligi, M. (2012). Furhat goes to Robotville: a large-scale multiparty human-robot interaction data collection in a public space. In Proc of LREC Workshop on Multimodal Corpora. Istanbul, Turkey. [pdf]
Blomberg, M., Skantze, G., Al Moubayed, S., Gustafson, J., Beskow, J., & Granström, B. (2012). Children and adults in dialogue with the robot head Furhat - corpus collection and initial analysis. In Proceedings of WOCCI. Portland, OR. [pdf]
Meena, R., Skantze, G., & Gustafson, J. (2012). A Chunking Parser for Semantic Interpretation of Spoken Route Directions in Human-Robot Dialogue. In Proceedings of the 4th Swedish Language Technology Conference (SLTC 2012) (pp. 55-56). Lund, Sweden. [abstract] [pdf]
Meena, R., Skantze, G., & Gustafson, J. (2012). A Data-driven Approach to Understanding Spoken Route Directions in Human-Robot Dialogue. In INTERSPEECH-2012 (pp. 226-229). Portland, OR, USA. [abstract] [pdf]
Neiberg, D., & Gustafson, J. (2012). Cues to perceived functions of acted and spontaneous feedback expressions. In The Interdisciplinary Workshop on Feedback Behaviors in Dialog. [abstract] [pdf]
Skantze, G. (2012). A Testbed for Examining the Timing of Feedback using a Map Task. In Proceedings of the Interdisciplinary Workshop on Feedback Behaviors in Dialog. Portland, OR. (*) [abstract] [pdf]
(*) Selected for keynote presentation
Skantze, G., & Al Moubayed, S. (2012). IrisTK: a statechart-based toolkit for multi-party face-to-face interaction. In Proceedings of ICMI. Santa Monica, CA. [pdf]
Skantze, G., Al Moubayed, S., Gustafson, J., Beskow, J., & Granström, B. (2012). Furhat at Robotville: A Robot Head Harvesting the Thoughts of the Public through Multi-party Dialogue. In Proceedings of IVA-RCVA. Santa Cruz, CA. [pdf]
2011
Al Moubayed, S., Beskow, J., Edlund, J., Granström, B., & House, D. (2011). Animated Faces for Robotic Heads: Gaze and Beyond. In Esposito, A., Vinciarelli, A., Vicsi, K., Pelachaud, C., & Nijholt, A. (Eds.), Analysis of Verbal and Nonverbal Communication and Enactment: The Processing Issues, Lecture Notes in Computer Science (pp. 19-35). Springer. [pdf]
Al Moubayed, S., & Skantze, G. (2011). Effects of 2D and 3D Displays on Turn-taking Behavior in Multiparty Human-Computer Dialog. In Proceedings of SemDial (pp. 192-193). Los Angeles, CA. [pdf]
Al Moubayed, S., & Skantze, G. (2011). Turn-taking Control Using Gaze in Multiparty Human-Computer Dialogue: Effects of 2D and 3D Displays. In Proceedings of AVSP. Florence, Italy. [pdf]
Edlund, J., Al Moubayed, S., & Beskow, J. (2011). The Mona Lisa Gaze Effect as an Objective Metric for Perceived Cospatiality. In Vilhjálmsson, H. H., Kopp, S., Marsella, S., & Thórisson, K. R. (Eds.), Proc. of the Intelligent Virtual Agents 10th International Conference (IVA 2011) (pp. 439-440). Reykjavík, Iceland: Springer. [abstract] [pdf]
Johansson, M., Skantze, G., & Gustafson, J. (2011). Understanding route directions in human-robot dialogue. In Proceedings of SemDial (pp. 19-27). Los Angeles, CA. [pdf]
Schlangen, D., & Skantze, G. (2011). A General, Abstract Model of Incremental Dialogue Processing. Dialogue & Discourse, 2(1), 83-111. [pdf]
2010
Al Moubayed, S., & Beskow, J. (2010). Perception of Nonverbal Gestures of Prominence in Visual Speech Animation. In FAA, The ACM / SSPNET 2nd International Symposium on Facial Analysis and Animation. Edinburgh, UK. [pdf]
Beskow, J., & Al Moubayed, S. (2010). Perception of Gaze Direction in 2D and 3D Facial Projections. In The ACM / SSPNET 2nd International Symposium on Facial Analysis and Animation. Edinburgh, UK. [pdf]
Skantze, G. (2010). Jindigo: a Java-based Framework for Incremental Dialogue Systems. Technical Report, KTH, Stockholm, Sweden. [pdf]