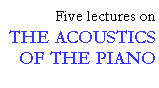 Hammer resonances
[<- Previous] [Contents of this lecture] [Next ->]
In order to verify that the observed hammer vibrations were not an isolated characteristic of the particular piano used in the experiment, we also investigated hammers from an other instrument. Indeed, the same types of resonances were observed, and in fact, the "ripple" mode was more developed in the piano rated as superior of the two instruments (see Fig. 12). The vibrations were observed both before and after string contact, naturally more vividly so after the violent collision.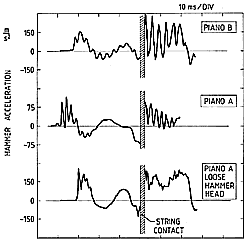 Fig. 12. Comparison of the motions (accelerations) of the hammer head for two grand pianos, showing two components of vibration; one slow ("backwash"), and a faster ("ripple"). Note that the "ripple" does not develop for a hammer with a slightly loose hammer head (bottom). Piano A was rated superior to piano B. "Staccato-touch" in forte, C4.
Having observed these differences between the two hammers from the eminent vs. the medium quality piano, our interest in the hammer properties and their influence on tone quality was aroused. The next observation, that a loose hammer head, which always is connected with a bad tone quality, prevented the ripple mode vibrations from developing (Fig. 12, bottom), gave further indications that these vibrations are in some way connected with the tone generation in the piano.
The same conclusion could have been reached by asking an experienced piano technician, who would tell you that in traditional manufacturing, the hammer shanks are assorted according to their tap tone - the resonance frequency as heard when the shank is dropped on the bench - before the hammer heads are glued to the shanks. Shanks with high tap tones are used in the treble and vice versa. Quite correctly, of the hammers of the experimental piano, a bass hammer exhibited a lower "ripple" mode frequency (-15%) than the middle C hammer, while the corresponding frequency for a treble hammer was much higher (+80%).
The hammer resonances were further investigated by a technique called modal analysis, which calculates the motion of the hammer at the resonance frequencies. These measurements indicated that during the upward acceleration while the hammer is supported by the jack under the roller, the hammer exhibits a series of resonances, of which two are shown in Fig. 13. At the lowest resonance at approximately 50 Hz, the hammer shank flexes over its entire length with the hammer head as a mass load at the end. This is the resonance corresponding to the "backwash" earlier discussed in connection with the key motion. At the next resonance at 250 Hz - corresponding to the "ripple" mode - the hammer shank shows a higher order bending resonance. Interestingly, at this resonance the top of the hammer head vibrates back and forth in the string direction.
Fig. 13. Approximate shapes and frequencies of two hammer resonances during acceleration towards the string; "backwash" (top) and "ripple" (bottom).
[<- Previous] [Top] [Contents of this lecture] [Next ->]
---
This lecture is one of Five lectures on the Acoustics of the piano
© 1990 Royal Swedish Academy of Music