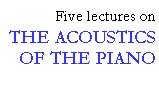 References
[<- Previous] [Contents of this lecture]

Wogram, K. (1984): "Akustische Untersuchungen an Klavieren," in H. Junghanns: Der Piano- und Fl˙gelbau (Verlag Das Musikinstrument, Frankfurt); English version "Acoustical Research on Pianos: Vibrational Characteristics of the Soundboard," Das Musikinstrument, Vol. 24, pp. 694-702, 776-782, 872-880 (1980).
About the author
Klaus Wogram received his doctorate (Dr.-Ing.) at the Technical Faculty at the University of Braunschweig in 1972. From the beginning of his professional career he has been with the Acoustics Department of the Federal Institute of Physics and Technology (Physikalisch-Technische Bundesanstalt) in Braunschweig, West Germany, where he became the head of the Musical Acoustics Laboratory in 1985. His research has dealt particularly with the brass instruments, an interest which he gained in his early years and has been continuously maintained by the playing of the jazz trombone.
[<- Previous] [Top] [Contents of this lecture]
---
This lecture is one of Five lectures on the Acoustics of the piano
© 1990 Royal Swedish Academy of Music