Hitta hit
Fonetikmötet kommer att hållas i K2 på Teknikringen 28, som ligger ett stenkast från TMH. Från T-banan (uppgång Östra Station) så går du förbi 7-eleven, snedda höger över Drottnings Kristinas Väg. Gå uppför Osquars backe, passera KTH biblioteket och sväng till höger vid Kemi. Snedda vänster över parken så ser du K2.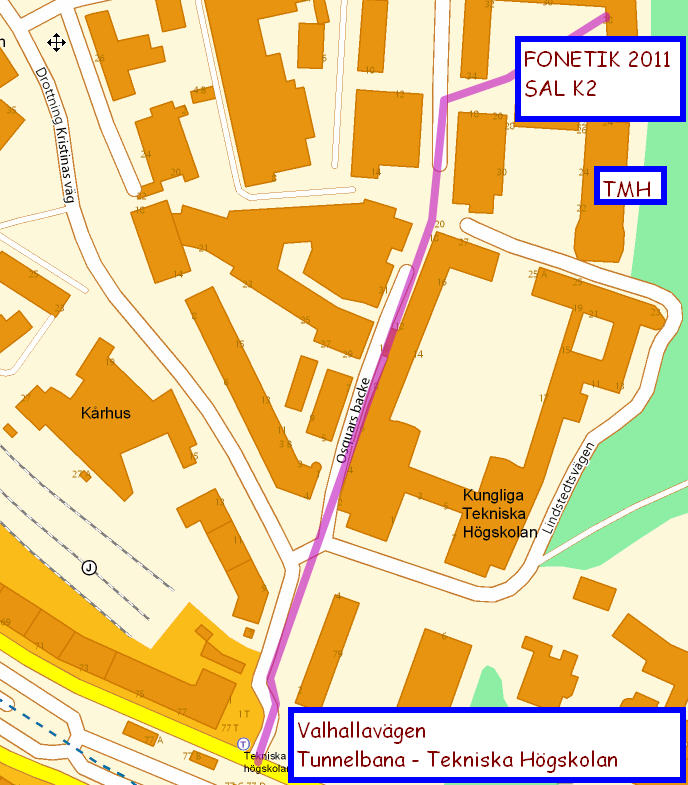 Karta till Hotel Arcadia från eniro.se
Local travel information
The underground is generally the easiest, fastest and most flexible means of communication in Stockholm. (Downtown, walking is recommended). KTH and Hotel Arcadia are located in the northern part of the city, and have the same underground station, "Tekniska Högskolan" (the red line towards "Mörby Centrum"), less than 10 minutes from T-Centralen.
From Arlanda Airport to Stockholm
The Stockholm/Arlanda Airport is located about 40 km north of Stockholm.
You will find taxis just outside the Arrival Hall at the airport. Note that taxi fares may differ substantially. Settle the price before getting into the taxi. You can share the taxi with other people (same price for up to 4 persons). Here you can find updated pricing information on taxis:
www.taxistockholm.se
There is a fast train service from Arlanda to Stockholm City. The travel time is 20 min and there is a train every 15 min. Prices can be found here:
www.arlandaexpress.com
Buses leave the airport every 10 minutes for the City Terminal in central Stockholm, near the Central Station. The bus ride takes about 35 minutes. From the City Terminal you may either take a taxi to your final destination in Stockholm or take the underground from the station "T-centralen". Underground stations are marked with a blue T on a white background. You can also ask the bus driver to give you a "flightbus taxi", which means that you start off with the bus to the City Terminal and from there continue with a taxi to your destination in Stockholm. For prices visit:
www.flygbussarna.se
Travel and tourist discounts
You can buy a tourist card for 24 hours or 72 hours. These cards are valid for an unlimited number of bus and underground journeys on the Stockholm Local Traffic company's (SL) ordinary routes throughout the whole of the Greater Stockholm area. The 72-hour card also includes admission to the Skansen outdoor museum, the amusement park Gröna Lund, the Kaknäs outlook tower and the SL Tram Museum, located in Söderdepån.
www.sl.se
Tourist cards and discount coupons can be bought at the SL Travel Centres at the T-station Tekniska Högskolan or from SL's other sales agents and kiosks, such as "Pressbyrån".
The so-called Stockholm Card includes unlimited free travel by bus (except airport buses), underground and local trains, free sightseeing by boat with Stockholm Sightseeing, free one-hour sightseeing by bus with City Sightseeing, free admission to 70 attractions and museums, and many special offers. You can buy the card at the Central Station, The City Hall, Stockholm Tourist Center on Vasagatan 14 and many other places.
www.stockholmtown.com